What's On
Regular Events
Friends meet:
Every Thursday 7.30pm at the Wheatsheaf pub. Open to all.

Gardening Club:
Every Saturday at 9.30 – 11.30am in John Leigh Park.

Social Bowling Club:
Every Monday at 7pm at the bowling green.

Health walks
Every Monday at 10:30am


Planned Events
The Big Lunch & Centenary Celebration, 4th June 2017
July 1st Dogs' Delight with the Altrincham and District Dog Training Association 2pm - 4 pm

July 9th Jamming on the park 2pm - 4pm Come and listen or bring your instrument

July 13th Judging day for Altrincham in Bloom. North West in Bloom

September 3rd Jamming on the park 2pm - 4pm Come and listen or bring your instrument
Recent Events
​​​Junior Schools Cross Country Running Mornings - Altrincham & District Athletic Club - 1st Oct, 15th Oct, 19th Nov.
Carols in the Park December 18th 2016, 4.30pm
Car Boot Sales at St Margaret's Church, Bowdon August 2016 Musical Sundays
Dog's Delight June 25th 2016 2pm - 4pm
Announcement of the Green Flag Assessments - July 21st 2016
North West in Bloom Visit - July 26th 2016
Away Day at Balmoral Orchard with Dave Rome - August 14th
Easter Parade - March 23rd
​Car Boot Sale in Dunham - May 2nd
Big Lunch - June 5th
Dogs' Delight - June 25th
Jamming on the Park - July 3rd
September 27th 2014 saw a hundred or more people of all ages gather around the aviary in John Leigh Park. They were addressed by Sarah Walmsley, Councillor Alex Williams and Alan Rydout, who is Chairman of the Friends of John Leigh Park. They explained that budget reduction of 40 percent meant that Trafford MBC has to reduce the services it provides directly, to remain viable. Parks and Green Spaces are being hit hard, here and across the country. We may all rail against the cuts and argue for alternatives. These arguments may be successful in the long term, but for now we have to find a way to preserve what we have and even strive for improvements.


The Council's plan to close the aviary in April, with savings of £23,000 pa, was confirmed by a notice of closure attached to the aviary. This shocking news reached local people via an illustrated article in SAM and has generated a warm and determined response from the community. Friends of John Leigh Park have worked with council staff to learn how to care for the birds, sought means of raising funds for food, heating, water and other essentials. They have widened their remit to include contributions to other aspects of park life.


September 27th celebrated a licence which agrees that Friends of John Leigh Park will maintain the life of the birds in the aviary by working a rota and supplying needs.


Graham Brady MP congratulated all concerned, saying he was pleased to be here and pleased to take action rather than seek to influence opinion: With one brisk movement he took down the notice of closure. With another gentler hand he presented Alan Rydout with the keys of the aviary and the licence agreement which was confirmed only the previous day.


Warm applause was followed by a perfect, unaccompanied rendition of 'Butterflies' by the choir of Bowdon Preparatory School with their conductor Beth Paterson. This was a truly uplifting finale.


The assembly was then escorted through the park, commenting on work done by the Friends group, to the flagpole at Oldfield Road. This had lacked a flag for several years as the park faded from the Green Flag system. There is no Green Flag yet, but there a flag of The Friends of John Leigh Park. This was raised with expert aplomb by Graham Brady, to tumultuous applause sustained by a Bugle Fanfare provided by Ian Roberts of Altrincham Methodist Church Boys Brigade.
More cheers, clapping and animated discussion – and people who could, stayed on to a splendid buffet spread at The Wheatsheaf just a short walk along the road.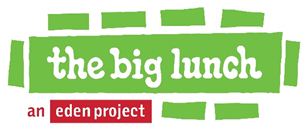 The Big Lunch - June 1st 11:00am – 2:00pm
The Big Lunch @ John Leigh Park, Altrincham on Sunday 1st June 2014 was a great success and was really well attended by adults, children, pets and fortunately the sun!
A slide show of pictures can be seen below. Please feel free to send pictures to us at
friendsofjohnleighpark@gmail.com
or by clicking the link above or contact us page.
Trafford Thrive
July 19th: Trafford Thrive competition at Altrincham Town Hall - we were one of nine groups to receive funding for their projects


In the news
Links